MEET THE FATHER/SON TEAM BEHIND MPO
THINK DIFFERENT | MORE PROFIT | LESS HASSLE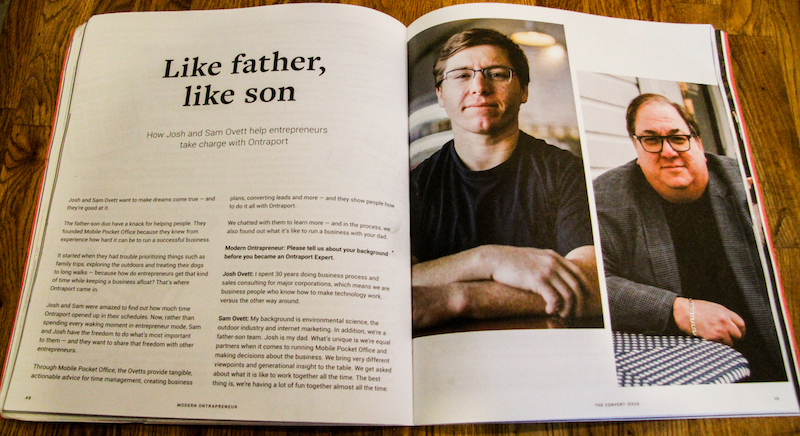 Like Father, Like Son 
How Josh and Sam Ovett help entrepreneurs take charge with Ontraport
Josh and Sam Ovett want to make dreams come true — and they're good at it. 
The father-son duo have a knack for helping people. They founded Mobile Pocket Office because they knew from experience how hard it can be to run a successful business. It started when they had trouble prioritizing things like family trips, exploring the outdoors, and treating their dogs to long walks — because how do entrepreneurs get that kind of time while keeping a business afloat? That's where Ontraport came in.
Josh and Sam were amazed to find out how much time Ontraport opened up in their schedules. Now, rather than spending every waking moment in entrepreneur mode, Sam and Josh have the freedom to do what's most important to them — and they want to share that freedom with other entrepreneurs.
Through Mobile Pocket Office, the Ovetts provide tangible, actionable advice for time management, creating business plans, converting leads and more — and they show people how to do it all with Ontraport.
We chatted with them to learn more — and in the process, we also found out what it's like to run a business with your dad.
Modern Ontrapreneur: Please tell us about your background before you became an Ontraport Expert.
Josh Ovett: I spent 30 years doing business process and sales consulting for major corporations, which means we are business people who know how to make technology work, versus the other way around.
Sam Ovett: My background is environmental science, the outdoor industry and internet marketing. In addition, we're a father-son team. Josh is my dad. What's unique is we are equal partners when it comes to running Mobile Pocket Office and making decisions about the business. We bring very different viewpoints and generational insight to the table. We get asked about what it is like to work together all the time. The best thing is, we're really having a lot of fun together almost all the time.
MO Why did you decide to become an Ontraport Expert?
JO I became a customer first. We bought Ontraport as a tool originally to replace a full-time employee who was retiring. She had managed the billing and customer service for our enterprise SaaS offering. Using Ontraport, we were able to automate subscription enrollment, recurring payments, dunning and failed payment notifications and, ultimately, to turn on or off access to the enterprise SaaS offering.
With customers in multiple time zones around the globe, I needed to stop customers from calling me in the middle of the night saying, "Hey, my credit card failed, and the system access stopped. Can you turn it on again?" After going to Bootcamp and Certification, I was blown away as we uncovered Ontraport's power and the ability to automate everything we needed. So we became an active Ontraport partner/expert to start offering this to other customers to solve problems. After all, the ROI on the first problem Ontraport solved for me changed an $80,000/year headcount/overhead to just $3,000 a year.
SO I was actually a customer first as well with my own system. Adding to what Josh shared, we love automation since it frees up my time to do more outdoor adventures that I love to do with my wife, like backcountry skiing, rock climbing, and whitewater kayaking. Ontraport's a killer tool that makes it possible, and it just made sense to get involved with this community, since it was clear it was headed in the right direction for automation. The more we use it for ourselves and our different businesses and implement it for clients, the more we find it can do all the things needed in a customer journey, without a bunch of other tools. And, when we do have to integrate Ontraport with other systems, we have the knowledge and the chops to do it.
MO Please tell us about your consulting business. What types of clients do you work with? What areas do you focus on?
JO We have a process we use internally and with clients. Everyone we consult with goes through our mapping process one of two ways. The big one is a "bringing your vision of your customer journey to life blueprint," and the smaller one is a "customer journey audit," during which we either figure out the big picture or a small segment of what they're doing now and what can be improved. It's like building a house with an architectural blueprint. When it's done right, everybody can see what the outcome should look like, exactly how to get there, the supplies that are needed, and when it's done.
A vision without an execution plan is just a hallucination. Without the blueprint, it's just a dream. It would be like meeting with a builder, letting them know you just bought a lot of land with an amazing view, pointing to it, and saying to the contractor, "Build my dream house." They're going to ask you for your plans.
SO Regarding type of clients, our ideal clients are already successful at attracting new leads for their business. Usually that means they're generating over a half a million or more in sustainable annual revenue. The problems they have are one or more of the following:
They would like to convert more of those leads to customers and they don't want to invest in hiring more staff to do that.

They have a lot of manual tasks that cause a lot of day-to-day hassles to keep up with.

They are bogged down with things like following up with leads and manually fulfilling their products and/or services.

They are so busy that they rarely take time to ask for referrals, even though their customers love them.
So we've got the people who are successfully running a business but overwhelmed by the volume of work they have to do to run it.
Many of them don't even realize how much they do. Their growth has been steady and incremental, so they've not noticed the amount of work they have to do to run their business, until they try to take two to three weeks off, and get off the grid and out of their daily grind. Reality smacks them hard in the face, and they realize their business would stop functioning if they left for that long.
What we do is aim to make it more profitable for them to run a business, and do it with less hassle. We focus on two things. Number one, knowing your numbers so you can make better decisions. Number two, being human where it counts, and otherwise automating, so you can take the time away from your business, and it still runs. We try to make it so the only thing you need to have to be able to check-in on your business is your cell phone, hence the name Mobile Pocket Office.
MO Which aspects of Ontraport do you think are most useful, or underrated?
JO The most useful part of Ontraport is using all of its features in concert with each other, allowing you to build a great and repeatable customer experience. Most people we work with use less than 20% of the features. The wild thing is, many people we meet buy tools they don't even need — tools that Ontraport already has features for, that they just didn't realize, and it becomes what I call the shiny object syndrome. 
With our programming and process background, for us, it's a literal toy chest of tools we can pull out and assemble whatever we want and need that also will be supported by Ontraport and not have to be custom-made or third-party.
This way, if something breaks — and sometimes it does — there's only one support team to call to get it resolved. 
The most underrated thing is the amazing and dedicated team and leadership behind Ontraport. Hey, y'all, I'm not sucking up here. I've been a part of the Ontraport community for over six years, with satisfied service. I've attended great events like Ontrapalooza and been provided help from dedicated humans who offer automation and back up the customers with care. 
SO One of the things I noticed is that people get really focused on building marketing automation campaigns, which is great and important, but they forget that if you take a little extra time to think through what you're doing in your business, and how Ontraport can power it, you could set it up to track all the numbers you need to keep track of the health of your business. And you can do it all right in Ontraport in a dynamic way. That means there's no manual reporting, and that's a really amazing opportunity everyone should be taking advantage of. If there's one message to convey, it's that you really need to know your numbers to run your business more effectively.
MO You have your finger on the pulse of the small business owner and entrepreneur. What gaps are you seeing? What's your advice for them?
JO The worst thing we see is silos in automation — automation that works but requires a human to manually connect the dots for it to continue. They are usually yes or no, true or false decisions to connect the process together, or they have to export/import things from different systems to make it all work. If somebody gets sick, leaves or dies, the whole process breaks. I've never met anyone who wants to do more manual work. They usually just don't know it's possible to not have to do things like moving data around from one system to another or completing a step manually to get somebody to the next process.
My advice is to peel back the layers of the onion that have been added over time mostly as workarounds in a manual process. Be ruthless at it. Find out what you're actually doing, down to every detail. Map it out, and then try and put it all in one system. Kill all the time wasters, and build bridges. It is not unique to small businesses; all the large corporations I've worked with over the last 30 years have had the same problems. They're just larger, more complex and more political. 
Change management is the biggest thing that you have to project manage. There is one caveat: If you don't know it's a bad process, you may never realize there is a better way. Sometimes the best way to fix that is to take a new person who does not know anything. Teach them and document the process along the way. Then let them work your process and give them permission to ask why we do it this way. The people on the front line can spot wasted effort real quick; it's usually the boss who doesn't like to be questioned.
SO Tracking. People get confused about how tracking works. I think that's because they perceive it's complex to set up, but once you understand what you're trying to track, you can work backwards from there. With Ontraport, it's all dynamic when it's done right. As soon as we get good tracking set up for customers, they tend to be more adventurous and willing to try new marketing ideas, because they can see and measure in real-time if it was effective in getting more revenue or raising key indicators of the results that they're after. Most people are excited to see more revenue. That's why we were big on getting people to a point where they actually know their numbers and not just whether or not they got more sales.
Of course, more sales will cover up a multitude of sins and bad decisions, but gut feel can be deceptive. My advice would be to ask yourself how much it costs to acquire a new customer, how long that takes, and how much your average customer spends over the time they are a customer with you. Knowing this type of info makes all the difference. Now you know what to pursue.
MO The theme of this issue is the Convert stage of the customer lifecycle. Can you tell us about your approach to converting leads?
JO Let's talk about low-hanging fruit. We first focus on installing a tracking process and converting warm, interested leads. Since most of the customers we work with have no problem getting leads, that's money in the bank. They are already spending money, energy and time getting people to visit the site and opt-in, even if it's inefficient and expensive. So we start by looking at what's done currently to convert leads to sales, find which parts are working and build on that from there. Often there is just a lack of consistent, relevant follow-up and ultimately asking for the business. In addition, we find that most of the time, the follow-up that is happening is only in one channel of communication, typically email. So we layer in additional channels that are fully automated — things like automatic retargeting ads on Facebook, Google and LinkedIn. We also add in texting, postcards and tasks to remind a sales rep to make a phone call at the right time.
If you're in the business where a human touch is needed as part of your process, our automation reminds you to be human at the right place and the right time for each individual prospect so they are encouraged to take the next action. And people on the sales team don't forget to do it. It can be as simple as when they open your proposal, you get a text with their name, number and a reminder to call them in a few hours. Or, if they look at your pricing online, the sales rep gets a text to make a phone call in a few hours. This is all done after tracking is in place, so you can immediately start to learn what increases conversions from leads to sales. So having tracking is really important.
SO Our customers love it when they've been out for the day doing something they love to do with people they love. Then they look at their phone, and they have new sales notifications. That's the power of using automation to follow up with people. That's the ultimate goal. Your business is running while you're out doing something else.
The thing we know is that people are not always ready to buy, and you need to follow up with them. So we developed an approach we call the ARRISS process. It's a map of 10 automated remarketing channels you can use to follow up with leads. The 10th channel is the really exciting part. It's paid retargeting ads with a twist. They are 100% automated, and the messaging is based on the stage of the customer journey someone is in, all the way through to the referral stage.
We developed this process since the old way of exporting and importing contacts to the right stage of the paid ad retargeting funnel manually was a huge time zap, and it really doesn't scale. Ontraport manages Facebook audiences out of the box. We also developed this because you should remind the 98% of visitors that window-shopped you on the web and never became a lead, that they were interested. So remind them to come on back and encourage them to take the next action. Once this process is configured to match the sales funnel that you built in Ontraport, your ability to reach interested buyers at different stages of the customer journey is now fully on autopilot.
Everyone should automate their paid ads retargeting, based on segmented relevant messages in each stage of the customer journey, all the way through to asking for customer referrals. In addition, you should be automatically building lookalike audiences for any future cold advertising you want to do. That way you can target people who are most like your current buyers. Plus, compared to cold advertising, retargeting costs for ads are very inexpensive. So, If you already have visitors who haven't yet converted to leads, this is a great place to start.
The feedback from customers is that once the ARRISS process is set up, there is nothing to do. It just works. They're left with one task, and that task is each week to review the "big picture" report that we create, see what's working or not, and change the least performing of the two ads that you're split testing in each stage of the customer journey. Then, you can see if your changes can beat the weeks prior conversion results. This helps our customers remain focused on getting more results and not fiddling with technology. In a recent example, we broke the automated retargeting ads down into four segments. The four segments were as follows: 
People who visited your site but not did not become a contact or trial user and did not purchase 

People who became a contact but not a trial user and did not purchase 

People who became a trial user but did not purchase 

People who became a purchasing customer
Everyone talks about automation complexity, and they just end up frustrated. The point of what we do when we work with someone is to make it so you don't have to deal with the technology. Just make the technology work for you. Let automation do the work so you can do whatever you want. You want to grow more? Great. Spend time trying out more marketing ideas to attract more of the right people. If you're happy with your lead flow and your conversion rate to sales, great. Let the systems you've put in place run. Check on the numbers, and go surfing, kayaking, climbing or skiing. Whatever you want to do. Utilize the features in Ontraport to touch people before, during and after a sale.
MO What's next for you?
JO We started Mobile Pocket Office with one goal: To not be chained to an office and spend time doing what we love in places with a great view. So for me, I'm going to go walk my dogs, swim in my heated pool, then go off to dinner.
SO After this, I'm packing up the car to go backcountry skiing with my wife, since we live in the Boulder, Colorado area, and we're having an amazing winter here in the Rocky Mountains.
MO Anything else you'd like to share?
JO We are preparing to release our "Plug in the Dream Automation" program that will help those who are in the info products or membership market. The complete system is built and can be installed in one click from the Ontraport Marketplace. This will allow Ontraport customers to shorten the time to go live and not get bogged down in technology. Along with the package, there'll be education tools and templates on how to use it and get started quickly.
We're doing this because we see a lot of people wanting to get started using Ontraport to sell digital info or membership products using a webinar. We heard Landon reach out to the experts community that there is a need to help those who don't have the budget to hire an Ontraport expert to guide and implement the process for them. And at the same time, they don't know how to set it up themselves, leaving them trying to learn technology, which takes time away from working on content and getting a jumpstart on the time it takes to go live and get to market.
SO This program gives people a plug and play process that they can immediately add to their Ontraport account. It's a track to run on. People will just have to modify the template content we provide in the process. It includes the entire done-for-you steps. This was built after studying and modeling the end-to-end processes of many successful people doing in excess of $3 million a year selling digital products. And at the end of the day, we want people to use automation so they use their time wisely and can grow their business without being chained to their computer all the time. Humans aren't meant to be on computers all day, every day. Also, we look forward to being sponsors again at Ontrapalooza in 2020. See you all there!